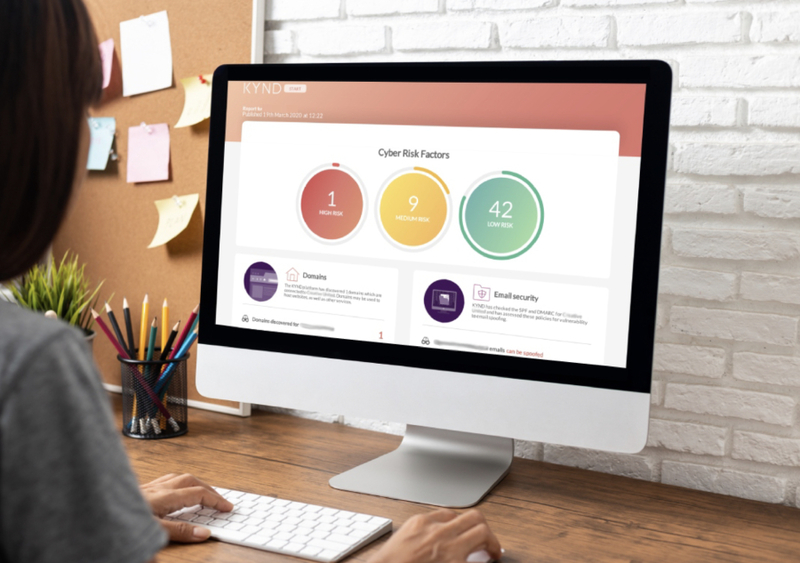 PRESS RELEASE: KYND boost small businesses' protection against cyber attacks during the COVID-19 pandemic with a FREE KYND Start report
KYND Limited, a provider of pioneering cyber risk management products, announced that it is to support small businesses and charities in combating cybercrime during the Coronavirus (COVID-19) pandemic by providing free KYND Start reports through the Confederation of British Industry (CBI) Coronavirus hub.
As the outbreak continues to grow across the world, creating heightened public anxiety, and forcing businesses into new, unfamiliar ways of working, cyber-criminals are trying to take advantage of the disruption by launching a multitude of new coronavirus-related attacks and scams. This means that businesses now need to become even more vigilant, but this can be particularly challenging for smaller businesses and charities who often lack the funds and resources to invest, especially during these difficult times.
KYND proposes to help these vulnerable organisations through the CBI, coronavirus hub which provides up-to-date support, intelligence and guidance for businesses, by offering a free KYND Start Report to small businesses and charities affected by the COVID-19 emergency who have no cyber insurance in place to protect their business in the event of a cyber loss.
Built on KYND's proprietary technology platform, the KYND Start report uses just a company's email address to instantly provide unique, easily understandable insight into any critical cyber risks the organisation may be facing and provides prioritised recommendations on how to fix them.
Andy Thomas, KYND's CEO, comments "In these unprecedented times KYND, like the CBI, want to do everything we can to help our fellow small businesses navigate through this crisis.  By offering small businesses and charities free access to our KYND Start report we feel that we can play our small part in helping everyone stay a little bit safer."
To access the free KYND Start report click here.
About KYND
Founded in March 2018 and headquartered in London with offices in Porto, KYND is a new breed of cyber company. KYND makes complex cyber risks simple to understand and manage for every organisation, regardless of size, means or industry sector.